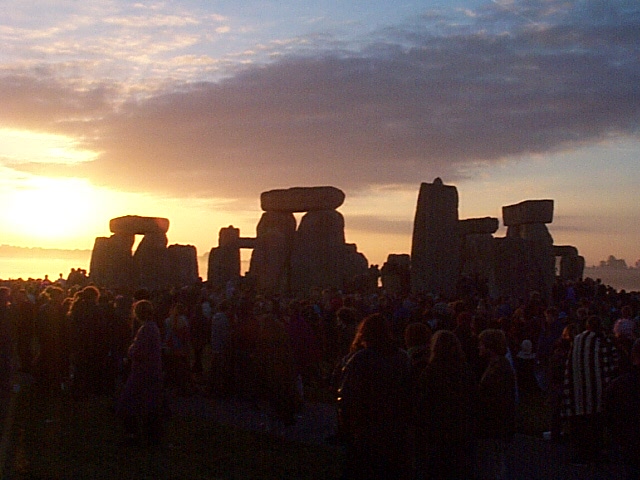 21 Pepper - 39 p.r.S.P.
Hello to all those in the blogosphere and welcome to
Blog Is Not A Four-Letter Word
. It's a collaborative effort, you see, on whatever topics the "groop" feel like posting about. I picked today to start things up as it generally seems to be the longest day of the (Gregorian) calendar year and the first day of the summer season. Could be a magickal day as well.
Were any of you lucky enough to see the "sunrise" in at Stonehenge? I was not, but would've liked to have been there. Hail! Hail! to all of you Druids who made the scene. The weather here in England isn't very summery at the moment--a lot of grey clouds and blustery wind--though this morning was pleasant enough.
If you're interested,
here's
a scientific over-view of the solstice--and
here
is a mystical listing of different cultures' view of the day. Just to be fair, a
listing
of various religious events associated with the summer solstice.
My solstice has been slightly marred by an e-mail I received yesterday from the
Maybe Logic Academy
. It reads:
"Warmest regards -
As many of you know, RAW's Neurologic has been cancelled at present. Bob Wilson's been sick, with deep waves of weakness. Today he's doing great."
I hope Robert Anton Wilson, one of my heroes, will get well soon--though the man is 73 and has been fighting the symptoms of post-polio for about ten years now. Though I don't "believe" it will help him, I'm sending out some "positive, get well" vibes his way.
Thanks to the other members of the "Blog Is Not..." team--and especially to Flaming Pixie, my Goodwyf and best companion, for the blog title. She can be counted on for brief, yet to-the-point reviews and commentary. Singing Bear always has some astute observations--on music, politics and anything he sets his steely wit to. Aloicious P. McGinnis will bring his sharp sense of humour as well as a practical knowledge of many things. Lend 'em your attention and you won't be disappointed.
You can also find us at Singing Bear's message board, The Bear Pit. Feel free to sign up and join in on the convos. Aloicious has his own blog, Demon Squad Local #77, which I hope he'll be adding to in the near future.
That's about all for today--I'll leave you with a haiku from Bob Wilson, included in the "Maybe Logic Academy":
"Well what do you know?
Another day had passed
and I'm still not not."
and also: "Tell the General, 'shit happens'" --Captain Ron
See you soon.