13 Elul - Year 5769
"Summer was gone and the heat died down...and Autumn reached for her golden
crown" --Nick Drake
The ninth month of Gregorian calendar year 2009 has arrived. Another British summertime has passed. Ah well, it was a bit nicer than last year. We had a good camping trip in Dorset and a decent Cropredy. We had less rain this summer, or maybe it just seemed that way.
Pixie and I spent the August Bank Holiday taking walks, looking after
Smudge
, a silver Siberian cat
who belongs to a co-worker. He was staying with us for the past couple of weeks, while she and her family were on holiday. We also visited
Slimbridge
, a wetlands preserve featuring many species of waterfoul and even an indoor display of amphibians. The entrance fee seems a bit pricey, but the place is quite large, so you do get your money's worth. The park is set up by areas of the world and you walk down the path and observe the birds. Photos are allowed and some of the birds are tame enough to approach the path.
I never realised how many different species of duck exist, having only seen mallards. I attempted to hand-feed some geese--I succeeded with one and was bitten by another..ah well. There are three types of flamingo at the park and they are the major attraction. It's interesting to know that their colouring derives from the food they eat, not from any natural pigmentation. That nice man
Stephen Fry
said so on
QI
and that's good enough for me.
Pixie's parents held a barbeque at their place on Bank Holiday Monday. At first it seemed like it would be an indoor affair, as dark clouds were overhead most of the day. The sun finally managed to burn through in the late afternoon, so we all basked for awhile, full of good food and lager (well, I was full of lager anyway). The neices are all growing so fast - soon they'll be taller than I am. Two of them decided it would be fun to round up the caterpillars who're munching on the brussels sprout plants. They loaded up five or six plastic cups full of the critters. Their intention of keeping the caterpillars at their house was kiboshed, so Pixie and I led an expedition to a nearby field to let the crawlies go.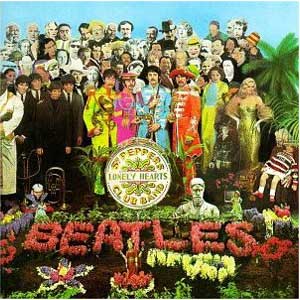 We had both booked Tuesday off, for an extra long weekend. We didn't do much, other than clean the house (and vacuum up all the cat fur). I did buy an
original stereo pressing
of The Fab's
Sgt Pepper
LP off of eBay. It weren't cheap, but it does have
The Fool
's groovy red-and-white inner sleeve (which was short-listed for the album cover at one point) and the "Pepper" cut-outs. I seriously am turning into a bit of a vinyl snob. I'm looking for original pressings or specific labels (
Island
's
pink "i"
label, "
Deramic Sound System
",
Vertigo
"swirl", etc.) and for the record to be in fairly good condition. I did make an exception for a copy of
Van Der Graaf Generator
's
The Least We Can Do Is Wave To Each Other
. The record isn't in great shape - but the label is the original
Charisma
pink scroll design, so I can live with it.
Speaking of the Fabs, the re-issues are due out
next week
! I've pre-ordered
Revolver
, "Sgt. Pepper.." &
Abbey Road
- my three faves. I'll order
The White Album
and
Rubber Soul
next--then get the rest eventually. I've avoided the box sets - though I might splash out for the mono set at some point.
Here we go....easing into Autumn.