27 Sh'vat - Year 5768
We had a small bit of spare cash left-over this month, so I was green-lighted to go the Record Fair at the Oxford Town Hall. It's been quite a while since I'd been--nearly a year, I think.
It's still being held in the smaller room on the first floor, as there aren't nearly as many sellers to fill the large room (where it used to be). In fact, there were even less tables than the last time I attended. I strongly suspect this has to do with "the intrawebs", as a lot of bootlegs can be had through bit-torrent sites like Dime-A-Dozen and Demonoid, including artwork. The amount of re-issues being released, especially by smaller labels devoted to exactly that purpose, which are easily ordered on-line, also contributes to the number of blokes willing to haul their wares around to small events. Sadly, it may spell the end of the monthly fairs held in Oxford.
On the other hand, it does mean that eventually, these guys selling boots will probably have to lower their prices. Remarkably, there were a few tables loaded up with them--going for £10-£15 a disc (£25 for double-disc sets!). The selection was the usual suspects--
Beatles
,
Dylan
,
Floyd
,
Stones,
etc. Some of the artwork seemed O.K., a lot were far worse than my home-made stuff. Sure enough, some people actually shelled out for them. I was tempted to tell one punter buying a few Beatles boots that that stuff was readily available on-line
almost free
, just a bit of internet time downloading a bit-torrent client and the cost of some blank discs--but I didn't want to be chased out of the hall by a mob of merchants. Plus, I thought, maybe he's not savvy to the bit-torrent revolution and he still thinks it's 1991, when the only way to get this stuff was through a bootlegger selling it.
Enough of that...I walked around and checked out ths discs and vinyl. Since Avid Records closed, I figured this may be the only way to score vintage prog and psych LPs. One of the 'regulars' always has a good selection, at not-so-good prices. He had a copy of
Third Ear Band
's second LP, the self-titled one (a.k.a. 'Elements'), priced at £35! It was in really good condition, but that didn't justify me spending over £30 for it. A couple of tables down, I found a
copy of
Tangerine
Dream
's 1971 album,
Alpha Centauri
, priced at £5. The sleeve's a bit battered, but the record itself plays just fine and it was a treat spinning it yesterday afternoon--a nice spacey soundtrack for a winter day. Sifting through the crates at the same table, I also found another T.D. album,
Stratosfear
, released on Virgin Records in 1976 (priced at £7)
and
one I've been looking to acquire for a long while now,
Caravan
's
In The Land Of Grey And Pink
--the Deram release with gatefold sleeve. The price tag on the Caravan was £10, but I tried to haggle the bloke down, because the sleeve is pretty beat-up (it turns out the record skips on the second side--but I didn't know that until later). He was reluctant, but eventually asked for £20 for all three, so I got a very slight deal.
After that, I checked out some CDs. I found the new
Radiohead
disc for £5, so I snapped it up. I bought Pixie a used copy of the double-disc
Pulp
compilation,
Countdown 1992-1983
, also for £5. It was priced at £6, but the guy let it and the Radiohead CD go for a tenner.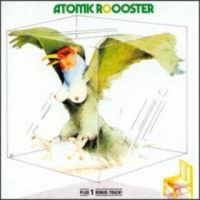 I had another walk around--I passed the Rasta dude who's also there every month. I was tempted to buy a few dub discs from him, but he over-charges as well, as I learned the last time I bought from him. I stopped at the table of another regular who always has a full stock of psych and prog discs. Again, some of the stuff seems quite rare and possibly worth the £10 price tag, but a lot of it seems over-priced. I only had a bit of money left, so I wanted to make a decent choice. I ended up, after much inner debating, buying
Atomic Rooster
's debut album (first released in 1970),
Atomic Ro-O-ster
(don't ask me why it's titled that...). The one I bought is the '91 re-issue on Repertoire Records, which includes one bonus track. I only have one of their tracks as part of the
Supernatural Fairy Tales
box set, so I've been a bit curious to hear more. I'm told that their second album,
Death Walks Behind You
, "is" the best one--but I figured I'd start from the beginning. The debut is also the only A.R. album with
Carl Palmer
on drums, before he went off with those other two to start that other band.
Vincent Crane
, the group's leader and keyboardist, and Palmer were part of
The Crazy World Of Arthur Brown
, but defected to form Atomic Rooster in 1969. I haven't listened to it yet, but it'll be getting a spin this week.
There was another guy selling dance & hip-hop LPs and 12" singles--so I rifled through a few crates, looking for any of
The Grid
's albums but came up empty. I found a few
Orb
singles and even the
...Adventures Beyond The Ultraworld
2-LP set, but he wanted £20 for each--so that was definitely out.
Lastly, I stopped at a table selling loads of used classical CDs. I searched for
Stockhausen
and
Terry Riley
discs, then realised that there weren't any modern classical CDs. I then remembered that I've been meaning to buy a copy of
Berlioz
's
Symphonie Fantastique
. I found two different versions of it, but decided on the Decca Records disc with
Zubin Mehta
conducting. I found a
Kronos Quartet
disc, called
White Man Sleeps
, first released in 1987. It seems interesting and their quality control is usually pretty good. The seller with the classical discs had a small book rack at his table and just as I was about to leave, I spotted a hardcover copy of
Nick
Mason
's
Inside Out
, his own recollections of being in
Pink Floyd
over the years. I had intended to buy it when it was first published in 2004--but as ever, never got round to it. I figured I'd have to try Amazon's used section and pay up the nose for it. This bloke was selling it for £12--but I asked to buy it for £10...we compromised at £11. Not bad, considering it was £30 when first out...and the copy I've got is in near-mint condition. I've already read through the first couple of chapters and the photos alone make it worth the money.
Well, I've got some reading and listening to do---be back soon.